Cochrane Skating Club's CanSkate Program
(scroll down to see program overview)
---
2023 Spring Session
May 30 to June 22, 2023
Tuesday and Thursday 4:30 to 5:00 pm
4 Tuesday's and 4 Thursday's -- Skaters are strongly encouraged to skate on both days (add both Tuesday and Thursday programs to shopping cart).
---
Fall & Winter (Sep 2022 to Mar 2023)
Monday & Wednesday Mornings (9:30 to 10:00 AM):
Winter: Jan 9 to Feb 13, 2023
Monday Afternoon Program 3:00 to 3:45 PM:
Fall: Sep 26 to Dec 19, 2022

Winter: Jan 9 to Apr 3, 2023
Tuesday Program 5:15 to 6:00 PM:
Fall: Oct 4 to Dec 6, 2022

Winter: Jan 10 to Mar 21, 2023
Thursday Program 5:15 to 6:00 PM:
Fall: Oct 6 to Dec 8, 2022

Winter: Jan 12 to Mar 23, 2023
Saturday Program 9:00 to 10:00 AM (1 hour):
Fall Oct 1 to Dec 10, 2022

Winter: Jan 14 to Mar 25, 2023
**No classes Oct 8, Oct 10; Nov 14; Dec 5, Jan 30, Feb 18, Feb 20, Feb 21, Feb 23, Mar 20
Note: Skaters are encouraged to skate 2x per week in CanSkate.

---
Program Overview
CanSkate is Skate Canada's nationally-recognized flagship program designed for skaters 4-15 years of age or who have completed the Pre-CanSkate Program (or have equivalent skills).
It is a dynamic learn-to-skate program that focuses on fun, participation and basic skill development. Based on Sport Canada's long term athlete development (LTAD) principles, CanSkate centers on physical literacy and the fundamental skills needed to take part in any ice sport or to skate as a recreational activity.
Skaters will learn a complete series of balance, control and agility skills taught in six stages of learning that pertain to hockey, ringette, speed skating and figure skating as well as general recreational skating.
CanSkate uses nationally-tested and proven curriculum and delivery methods that guarantee skater success in developing stronger basic skills and developing them faster.
Coaches make sessions active using teaching aids, upbeat music and a wide variety of activities that create a motivational environment and promote learning and skaters progress at their own rate. Our coaches continuously monitor progress and skills of each skater and will use their discretion to move skaters into the appropriate program.
CanSkaters may graduate to the Cochrane Skating's Club Advanced CanSkate and Junior STARSkate Programs.
---
Watch the below video to see the CanSkate Prgram in Action!
Equipment Requirements
Skaters who are equipped properly will have more fun and will advance faster
1. Skates: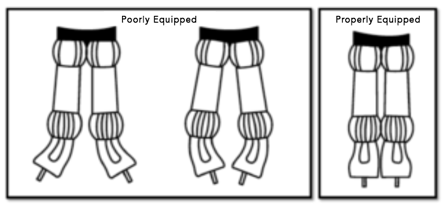 Skates fit comfortably and there is sufficient ankle support

There is room for toes to wiggle slightly

Heels do not lift inside the skate more than ¼ inch

An adult finger can fit in the top of the boot when done up

Excess laces are tucked or tied up so that they do not hang loose or drag on the ice.

We do not recommend the "adjustable or expandable" skates or Molded plastic skates as can hinder skater progress, but either hockey or figure skates options are fine.
2. CSA-Approved Hockey Helmet:
A CSA-approved hockey helmet MUST be worn by all skaters up to and including stage 5 (please click to see Skate Canada Helmet Policy). This means the helmet MUST have the red/blue CSA sticker on it to be valid.

This policy will be strictly enforced, please read carefully to avoid disappointment.

No bike helmets are permitted and skaters will not be permitted on the ice.
3. Clothing:
Skaters should dress warm layers for our sessions; items such as long drawstrings, scarves, dangling coat belts, etc. can be a hazard on the ice and should be removed or avoided.
Warm mittens or gloves are mandatory and children will not be allowed to skate without them.
Equipment Care:
To protect the skate blades, skate guards should be worn in any area that is not protected by rubber mats.

At the end of every session the blades should be wiped with a dry cloth to prevent rusting.

Skate sharpening should be done periodically, about every 30 hours of skating (depending on usage and care). The bottom pick on figure skates should not be removed – the pick is part of the design and is essential to proper balance.
What happens on the first day?
Arrive no more than 15 minutes prior to the ice time.

Arrive with your skater full dressed with skates and guards on to protect skates. .

Check the monitor in the lobby for the dressing room assigned to CanSkate. Please do not change in rooms not assigned as other clubs/user groups may have those dressing rooms assigned to them.

Collect your skaters name tag and attached to their jacket. Note the coaches will keep it at the end of the class to take attendance.

Note the first couple of classes are when skaters are grouped and it's normal for skaters to be a bit confused or the session to look hectic. There will be be some switching of groups and adjustments to ensure all skaters are in appropriate groups and skill levels in the first few classes. Coaches may move skaters to different groups throughout the program based on how they progress.